Accompanied by a chauffeur and an interpreter guide (National Government Licensed Guide Interpreter), the tour will take you to short distance sightseeing spots such as Tokyo and Yokohama.
Only if the starting point (departure point) and ending point (arrival point) are the same.
13,000 yen / hour
Highway tolls, parking fee and Interpreter-guide fees are all inclusive!
Entrance fees, admission fees, and tour fees for tourist attractions are not included.
For sightseeing tours of one night and two days or longer, additional costs for lodging and other expenses for the interpreter-guide and chauffeur will be charged.
Number of passenger
| Vehicle | Maximum passengers |
| --- | --- |
| Sedan (Lexus LS, Nissan CIMA etc.) | 2 |
| Minivan (Toyota Alphard, Toyota Vellfire, Toyota Granace etc.) | 4 |
Plan according to your pace
The interpreter-guide will suggest sightseeing courses and the chauffeur will suggest travel times for you.
Our National Government Licensed Guide Interpreter will propose a plan that meets your needs so that you can freely enjoy shopping and stops at your own pace.
Please do not hesitate to let us know your arrival and departure points, times, places you would like to visit, courses you would like to take, and any other details you may need.
Recommended Sightseeing Course
Half Day Sightseeing Course
Asakusa
Enjoy traditional Japanese culture during your stay in Tokyo with a leisurely half-day schedule.
Sword Museum
This is a valuable museum where visitors can learn about the history of swords, which have been used as weapons, objects of worship, and symbols of authority, and are now also objects of appreciation as works of art, as well as how they are made.
Sumida Hokusai Museum
Katsushika Hokusai, born and raised in Sumida-ku, Tokyo, is a well-known ukiyoe artist whose masterpieces include Fugaku Sanjurokkei (Thirty-six views of Mt. Fuji) and Hokusai Manga. Ukiyoe was influenced by Western-style paintings that traveled from Izushima Island in Nagasaki Prefecture to Europe via the Silk Road. Enjoy this museum, which also houses Kanagawa Okinamiura, a work that many people have seen at least once.
Kappou Yoshiba
The building and its contents, which used to be the former Miyagino-beya(Miyagino-stable) that produced many sumo wrestlers, have been kept in their original form. Therefore, there is a Dohyo(sumo ring) in the restaurant, and you can enjoy your meal in a sunakaburi seat (a seat right in front of the Dohyo). Please enjoy our special chanko-nabe, sushi, and Japanese cuisine.
Kaminarimon
(
View from the car window

)

The real name of Kaminarimon, which has a history of more than 1,000 years, is Furaijinmon.We will take you to the hotel where you are staying with a side view of the Kaminarimon, the symbol of Asakusa, and the huge lantern (high:3.3m:10.8ft and wide:3.9m:12.8ft) that hangs there.
| Total ride time | Full Itinerary |
| --- | --- |
| 30 minutes | 7 hours |
(*2)
Note
Hotels at departure and arrival points are based on the Imperial Hotel in Chiyoda-ku, Tokyo.
Departure times, arrival times, and travel times may vary depending on customer preferences, traffic conditions, and other factors, and are provided as a guide only.
Please use it for sightseeing in Tokyo, Yokohama, etc.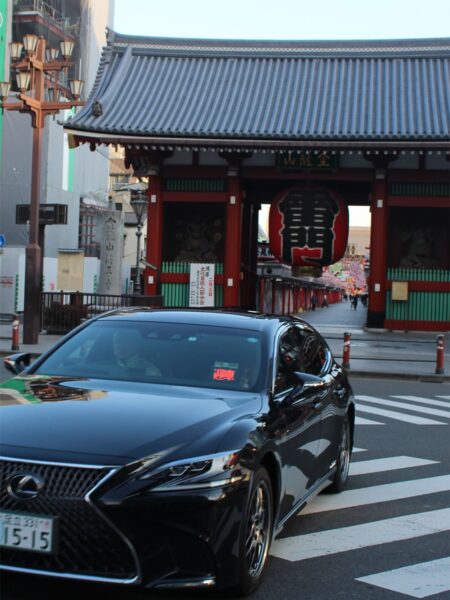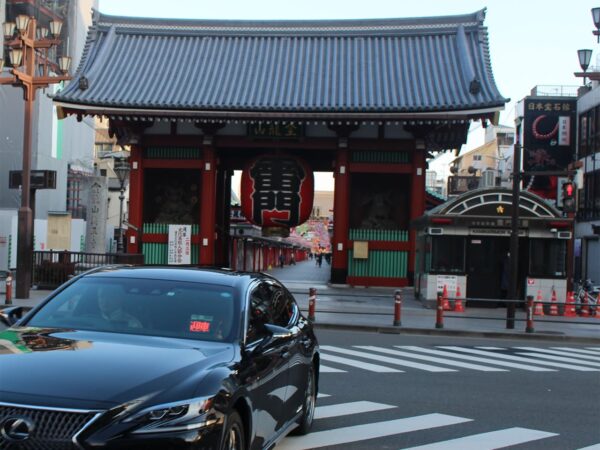 We have launched a new service that provides an accompanying interpreter-guide(National Government Licensed Guide Interpreter) who can interpret in English and provide sightseeing guidance so that you can be guided to famous places and historical sites in Japan.
We will help you to know about seasonal Tokyo, traditional culture unique to Japan, famous places, historic sites, and historical sites, and help you to have a good memory of your trip.
One interpreter-guide will accompany every two to four people, so unlike a sightseeing tour with many people, you will have a rich and fulfilling sightseeing tour in Japan.
Our interpreter-guide is a very experienced interpreter-guide with a strong background in history and has worked as an interpreter-guide for foreign dignitaries.
We can also provide chauffeur only transportation (no interpreter-guide required) or one-way transportation from hotels to sightseeing spots. Please contact us first!