Accompanied by a chauffeur and an interpreter guide (National Government Licensed Guide Interpreter), the tour will take you to Hakone, Mt. Fuji, Nikko, and other far-flung tourist destinations.
13,000 yen / hour
Highway tolls, parking fee and Interpreter-guide fees are all inclusive!
Entrance fees, admission fees, and tour fees for tourist attractions are not included.
For sightseeing tours of one night and two days or longer, additional costs for lodging and other expenses for the interpreter-guide and chauffeur will be charged.
Number of passenger
| Vehicle | Maximum passengers |
| --- | --- |
| Sedan (Lexus LS, Nissan CIMA etc.) | 2 |
| Minivan (Toyota Alphard, Toyota Vellfire, Toyota Granace etc.) | 4 |
Plan according to your pace
The interpreter-guide will suggest sightseeing courses and the chauffeur will suggest travel times for you.
Our National Government Licensed Guide Interpreter will propose a plan that meets your needs so that you can freely enjoy shopping and stops at your own pace.
Please do not hesitate to let us know your arrival and departure points, times, places you would like to visit, courses you would like to take, and any other details you may need.
Recommended Sightseeing Course
1 Day Sightseeing Course
Fuji
Lake Kawaguchi
One of the five lakes created by the eruption of Mt. Fuji is Lake Kawaguchi, which, together with Mt. Fuji and Kawaguchi Sengen Shrine, is registered as a World Cultural Heritage site (Mt. Fuji - object of worship and source of art).
Fuji SUBARU Line
Mt.Fuji fifth station at an altitude of 2300 meters, and if the weather is clear, you can see the majestic and beautiful Mt.Fuji right below you.
5th station of Mt. Fuji
You can aim for the summit from the fifth station, but you can easily enjoy the spectacular view from this fifth station alone. If you wish to reach the summit, it takes about 10 hours from the beginning of the ascent to the descent, and you will stay at a lodge at the summit, so we will pick you up the next day.
Oshinohakkai
These are eight of the several spring-fed ponds that remained after the huge lake dried up due to the eruption of Mt. Visitors are encouraged to not only see but also touch the spring water, which is very clear and cold, averaging about 12 degrees Celsius.
Lake Yamanaka
(
View from the car window

)

The morning and evening scenery of Lake Yamanaka is so beautiful that many people visit the lake to photograph it. If the weather and timing is right, you may even be able to see the fantastic "upside-down Fuji" reflected on the lake's surface.
| Total ride time | Full Itinerary |
| --- | --- |
| 350 minutes (5 hours 50 minutes) | 10 hours |
(*2)
Note
Hotels at departure and arrival points are based on the Imperial Hotel in Chiyoda-ku, Tokyo.
Departure times, arrival times, and travel times may vary depending on customer preferences, traffic conditions, and other factors, and are provided as a guide only.
Please use it for sightseeing in Tokyo, Hakone, etc.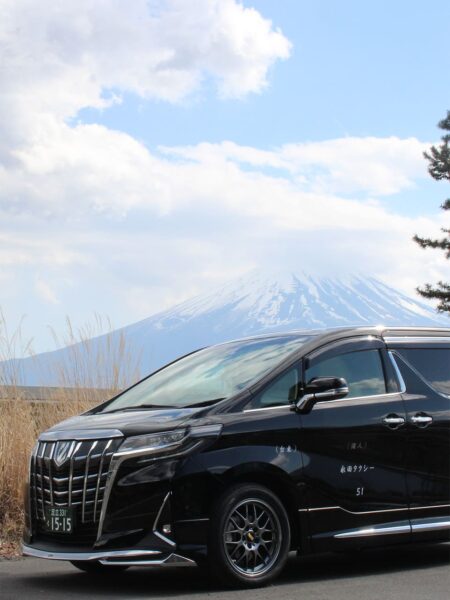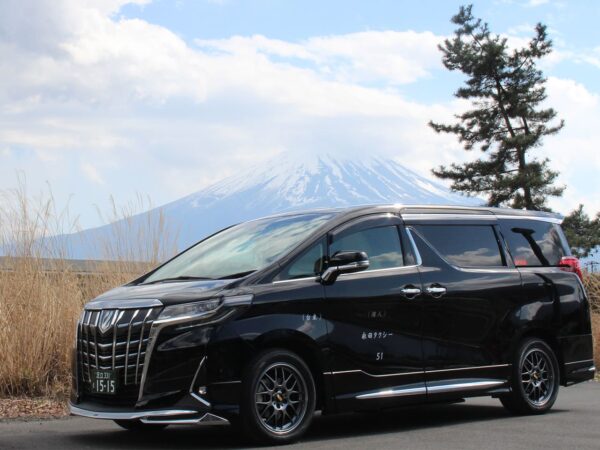 We have launched a new service that provides an accompanying interpreter-guide(National Government Licensed Guide Interpreter) who can interpret in English and provide sightseeing guidance so that you can be guided to famous places and historical sites in Japan.
We will help you to know about seasonal Tokyo, traditional culture unique to Japan, famous places, historic sites, and historical sites, and help you to have a good memory of your trip.
One interpreter-guide will accompany every two to four people, so unlike a sightseeing tour with many people, you will have a rich and fulfilling sightseeing tour in Japan.
Our interpreter-guide is a very experienced interpreter-guide with a strong background in history and has worked as an interpreter-guide for foreign dignitaries.
We can also provide chauffeur only transportation (no interpreter-guide required) or one-way transportation from hotels to sightseeing spots. Please contact us first!
Fuji + Gotemba Premium Outlets
Fuji
Lake Kawaguchi
Fuji Subaru Line
5th station of Mt. Fuji
Oshinohakkai
Lake Yamanaka
Fuji + Gotemba Premium Outlets
Lake Kawaguchi
Fuji Subaru Line
5th station of Mt. Fuji
Lake Yamanaka
Gotemba Premium Outlets
Fuji + Hakone
Lake Kawaguchi
Lake Yamanaka
Oshinohakkai
Lake Ashinoko
Hakone-Yumoto
Hakone
Hakone-Yumoto
Fujiya Hotel (View from the car window)
Hakone Art Museum
Lake Ashinoko
Nikko
Nikko Toshogu Shrine
Iroha-zaka slope
Kegon Falls
Senjogahara
Ryuzu Falls